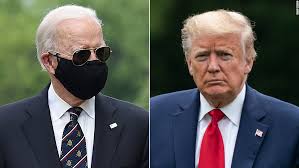 Roberto Pérez Betancourt
Although the White House's onerous usufructuary blonde moves his head from side to side in front of reporters, who question the possibility of re-electing in November in the U.S. presidency, polls from all news chains and centers specializing in marking investigations and political opinion polls reaffirm that Joe Biden will dress up as a party on November 3rd when he will cease Trump.
The RealClearPolitics website, which provides results from pollsters, on Thursday, he recognized an average 9.3 percent advantage to the virtual Democratic Party candidate over the infamous Republican contender, who in some opinion polls appears even with unfavorable balances between 10 and 15 percent, attributable to his mishandling of the Pandemic, his undue, racist and xenophobic attitude, and the political illiteracy that each time he opens his mouth in public, without using nasbuco.
In addition, the source states states considered key to winning, Biden also takes the lead in intent on votes with interest advantages: in Florida 6.4%, Pennsylvania 7%, Wisconsin .5, North Carolina 3% and Arizona 3.5%.
Election 2020

Biden

Trump

Difere

Battlefields

Biden

Trump

Difere

Congress

Democrats

Gop

Chamber of Representatives
Unsurprisingly, Trump dismisses other people's polls...
Of course, Trump and his team of analysts dismiss pollsters' results and highlight those of their own internal polls, which they claim without proving it, are very in favor of the Republican's cause, insistently rated by prominent political figures as "the worst president america has ever suffered."
Faced with this controversial stance, some publications underscore their own criteria, supported by opinion polls on scientific grounds. For example, suffolk, commissioned by the USA All newspaper, gives former Vice President Biden 53% support for 41% for Trump.
Another analysis, conducted by pollster Siena for The New York Times, and disseminated that same day, "reflected a strong advantage of Biden on six of the major battlefields: Florida, Wisconsin, Michigan, Pennsylvania, North Carolina and Arizona."
According to data from the Gallup organization, presidents who have an approval rating of 50% or more in pre-election polls win re-election. This is not the case with Donald Trump, who is very close to the low 40 percent.
In this scenario, two news today impacts the US election landscape: In June Joe Biden's campaign managed to far surpass Trump's economic fundraising, a decisive caption for the US elections where Mr. Money often says the highest and most definitive word, although it is clarified that in the accumulated capital still the billionaire of pride presence takes advantage.
Another significant fact, spread by the agency Reuters warns from Washington:
"Hundreds of senior officials who worked for former Republican President George W. Bush set out to support the aspiring White House Democrat, Joe Biden,several people involved in one of the Republican initiatives that oppose Donald Trump's re-election."
The Democratic Party's virtual candidate for the November U.S.presidential election, Joe Biden,said at a press conference that he pledged to have three debates with current representative Donald Trump and advocated the removal of statues and monuments on "systemic racism."
Biden with mask, Trump face to face
In this context, the public position of both presidential candidates in the 2021-2024 period does not unnoticed. While Joe Biden is rarely exhibited in public, when he does he uses the mask or nasobuco to protect himself from Covid 19. The opposite case is his opponent Trump, who goes outside face-to-face, defiant, displaying his usual gesture of superb self-sufficiency to demonstrate his challenge to the evil virus, as in Western times in Hollywood films: "Trump the Hard," likes to be called, but in intimate and more outgoing circles it is said that the only thing that actually has hard is the face.
Biden, 77, explains his reseal for medical advice, and implicitly announces his responsibility by saying that this political campaign is inusible, so he will not organize public events, as long as he does not improve the epidemiological situation that has retakes numbers of scare in infested and deceased.
After being confined to his home for two months, Barack Obama's former vice president starred in small public acts in June.
"We will continue to use all the tools available to highlight the obvious contrast between Donald Trump's slow and chaotic response to covid-19 and Biden's handling of the crisis," Michael Gwin, a spokesman for the Democrat's campaign, told AFP.
But some observers feel that Biden's decision is risky, given his opponents trying to present him as an old man unable to withstand pressure, while Trump's 74-year-old platform exploits the "reckless" angle of the toused blond "who fears nothing," even though he is trembling with fear of contagion.
In this regard, Trump's failure at the rally he organized in Tulsa, Oklahoma, on June 20, is recalled when thousands of seats were left empty even though a crowding of the stands was expected.
We already talk about the characteristics that the conventions of both parties will have in August for the official nomination of the respective candidates. Democrats must hold their rally in Milwaukee, Wisconsin (August 17-20), but it is anticipated that it will be followed via the Internet with little public physical assistance.
Trump aspires to an apotheotic event, with hundreds of thousands of people stirring up his multicolored image and chanting his name, but in North Carolina, where the Republican Convention was initially announced, he was alerted to restrictions by the pandemic, which by the announced date could remain very severe, and then the headquarters for Jacksonville, Florida, was changed between August 25 and 27 , where the anti-Cuban mafia will surely organize a "happy hour" for his lord, who may be given up to a golden crown to cover his hair-to-clear blonde.
How many of the 330 million people in the U.S. will have the right to vote? How many of those entitled to vote will be prevented from going to the polls for one or the other manipulable reason? How many of those who can physically or through the mail vote, will they? How long will the count take to give an opinion? What decisive role will money play in the vote? If Trump loses, as polls predict, will he accept the result, or will he attempt to create a state of political destabilization in the country? There are several of the questions that are still pending answers and analysts try to decipher them before November 3, after that date, in journalistic terms will be cold will it be...?
(TVY) (With agency information, real-time monitoring of televisions and websites on the internet and editor files) (03/07/20).
Comentarios » Ir a formulario