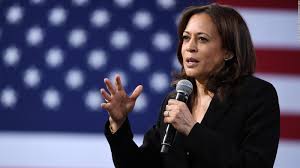 In the Photo: Senator Kamala Harris of California, aspiring vice presidency.
Roberto Pérez Betancourt
It's not that polls are a foolproof oracle to predict who will win or lose the U.S. presidential election on November 3 this year, but they do represent an approximation benchmark for observing how voters' intentions move and to what extent the election campaigns of applicants are influencing or not deciding whether or not Donald Trump should theoretically decide whether Donald Trump gets away with it and extends four more years his discredited presence in the White House, or he has to pack up and go with his detuning to another side (with the excuse of the tuned retainers).
In reality, the pollsters' results always vary based on certain nuances of preference that are often seen in them, but in absolute terms they all now make the virtual democratic party contender Joe Biden as a broad favorite, whose ratification must happen at the Party Convention set for next August.
The Real Clear Politics website, which often covers different survey results and provides averages of the most visible trends, has raised Biden's overall favoritism to an average of 9.5 percent. In states that tend to appear as more controversial in the voters' decision, most also lean in favor of Barack Obama's former vice president: Florida, 6.2 percent; Pensilvanya, 5.6; Wisconsin, 5.4; Arizona, 4 and only North Carolina is in favor of Trump, but for a slight difference of 0.6%.
Average CPR surveys June 22, 2020
| | | | |
| --- | --- | --- | --- |
| Election 2020 | Biden | Trump | Different |
| | | | |
| | | | |
| | | | |
| Battlefields | Biden | Trump | Difference |
| | | | |
| | | | |
| | | | |
| | | | |
| | | | |
| Congress | Democrats | Gop | Spread |
| | | | |
| | | | |
| | | | |
Trump's bout on his first public appearance on election campaign
With the ostentatious optimism overwhelmed, Donald Trump entered the BOK arema, Tulsa Stadium, Oklahoma, through the starwork of the sporting spectacle. He hoped to find the bleachers full of supporters who would shout his name, angry, as the fascist hordes used to do in the presence of the Fuhrer.
But it wasn't. Fans wearing red caps and T-shirts representative of "Make America Grat Again", the vast majority without nasoboucos (cover) to protect themselves from the Covid 19, imitating the teachings of their president, were not the promised, because thousands and thousands of seats were left empty in the amazement of the s notarized blond. But, as seen in the videos, the leader knew how to swallow dry and not lose his composure, magnifying the spectacle that everyone knew would be labeled as arrogant failure by the reviewing press of his reappearing voter in the public palestra But, "Who cares about the reaction of the press? If everyone attacks me for no reason!" would say the now-target favorite of John Bolton, his former security adviser, who has just brought out his former boss's dirty rags and rags, a kind of "Revenge to the Asian" that the White House bullhead could not suppress despite his unnotified efforts for the judiciary to ban him, after dismissing a myriad of arguing...
And the prens certainly commented, "When media photos began to show a lack of audiences at an event that promised to bring together up to a million people, social media began to offer a insights into what was happening.""
"According to politicians, experts and media from the United States, thousands of young TikTok users and K-Pop (social network) fans were behind what happened: they came back a challenge on the social network asking for tickets to the event... to then not perform, said political strater Steve Schmidt, who worked for the George W. Bush campaign.
Organized conspiracy to boycott attendance at the Trumpian rally, or real fear of defying Covid 19, the truth is that the rating offered by analysts to Trump's intention to "scratch" the rally has been resounding failure. This, seen at the loz of polls, says he has led Trump's "strategists," who insists as demented that he will not surrender the Crown of the Empire to any Pepe, which in turn has motivated Joe Biden to public the fear of what might happen if this individual refuses to acknowledge his defeat at the ballot box and intends to resort to other unorthodox formulas within "representative democracy" continue to wield the axe in the style of a medieval executioner.
Democrats seek an aspiring vice presidency
In this election landscape, when only a little more than four months to go before the elections, they begin to snatch attempts by Republican elephants, and Democratic donkeys, to emerge furiously.
Once again the polls illustrate that this Tuesday, June 23: the Blue Party takes wide advantage in the intention of votes in the House of Representatives, while in the Senate, where Republicans dragged several seats ahead, the fighting has closed and appears today with only a likely position on their rivals.
The question of the day is who will be the person who will accompany Joe Biden as a contender for vice-presidency and will be officially proclaimed at the Party Convention. Some names that a few weeks ago still sounded in the aspiranturas have already been discarded. Today, the most likely is Senator Kamala Harris of California, who was born on October 20, 1964, in Oakland, California, to a Tamil Indian mother and Jamaican father. Her mother, Shyamala Gopalan Harris, was a breast cancer scientist who emigrated to the United States from Madras (now Chennai) in 1960. According to Wikipedia, she insisted on giving her daughters Sanskrit names derived from Hindu mythology to help preserve their cultural identity. His father, Donald Harris, is a professor of economics at Stanford University who emigrated from Jamaica in 1961 to pursue postgraduate studies in economics at the University of California, Berkeley.
Senator Harris, for California, went from public enemy during the debates to an ally of Joe Biden. He's a favorite in the polls, he's surrounding himself with a very established team in Washington and has a profile that could bring diversity to the Democratic presidential formula.
By the way, according to official figures, in May the election fundraising of Biden's campaign exceeded that reached by Trump, although in general terms he has more money accumulated to spend on propaganda...
Finally, we need to look at the recap of Real Clear Politics' polls,where Harris has favoritism among Democratic voters across the country to become Biden's formula companion. It even took a considerable advantage from Elizabeth Warren, the Massachusetts senator who struggled until the last moment for the Democratic nomination for the presidency.
(TVY) (With information from agencies, internet pollers, live monitoring of US television news, the U.S. writer files)(23/06/20).
Comentarios » Ir a formulario